home>>Florida Holidays>>Villas in Orlando>>Emerald Island Villas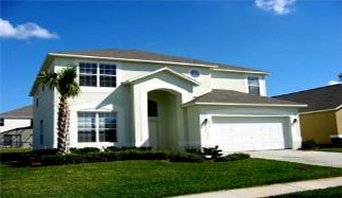 Villas, Townhouses


Emerald Island - Orlando
Prices - Click Below
The beautiful gated community of
Emerald Island Resort
, surrounded by a wildlife conservation area, is the latest upmarket full-facility resort to hit the Disney area. Surrounded by a conservation area which encompasses over 300 acres resulting in Emerald Island being a quiet, safe and peaceful neighbourhood. Emerald Island offers private pooled homes ranging from standard 4 Bedroom villas through to huge 7 Bedroom, 6 Bathroom properties with spa and games room allowing parties of up to 16 guests to stay together.
Location is a key factor and with Disney World being only 3 miles away making this the perfect place to stay, whether you are planning to visit EPCOT, Magic Kingdom, Animal Kingdom, MGM Studios, Sea World, Universal Studios, one of the many golf courses that are near-by or drive to one of the big malls.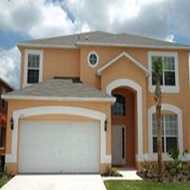 Emerald Island Villas feature master king or queen size en-suite bedrooms, private screened swimming pool, large open plan lounge, fully equipped kitchen with oven, microwave, fridge/freezer, dishwasher and all pots, pans and cooking utensils, utility room with washer/dryer, cable TV, telephone, many villas have a spa (Jacuzzi) along with a nice fully equipped games room, perfect for entertaining the whole family.
For this or any of our other Villa's / Apartment packages email us our
Enquire Now
form for an instant quote!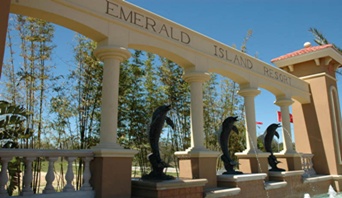 Emerald Island 2016

Virgin Atlantic Airways
May 2016 offers from
£899 incl tax
Stay in a
4 Bed Luxury Villa in Emerald Island from £3596
incl flights and car.(2adults and 2 children)
Airline :
Virgin Atlantic

Car:
Compact 4 door
From:
1st May 2016
14th May 2016
Enquiries:
Click Here
View Another
Orlando Villa
Emerald Island

View Another
Gulf Coast Villas
Emerald Island Resort

Orlando -Entertainment
Emerald Island
resorts large clubhouse and luxurious heated swimming pool are the center of activity for the community. Free use of sun loungers and a large deck area make it a perfect spot for sunbathing. The clubhouse has something for everyone including a spa with hot tub, sauna and steam room, a meeting room for informal gatherings, and a computer for guest access to the Internet. Staff are on hand to assist with dinner reservations, attraction tickets or transportation.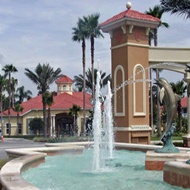 Emerald Island resorts
community provides a host of amenities for all ages. The 4000 ft clubhouse contains a lounge with large screen TV, gym with exercise room, sauna, cyber cafe and games room. After visiting the clubhouse for a relaxing tea or coffee why not play some tennis or volleyball. If sports are not your thing then relax in the large community pool or hot tub with a tiki bar at the pool you'll never be short of refreshing drinks. Nature lovers can take pleasant hike through the abundant 11 acre nature preserve.
Emerald Island has a great location conveniently located to grocery stores, a drug store and multiple restaurants, including the popular Outback Steak House and Carrabba's Italian restaurant are all less than 2 miles from this community. Emerald Island is one of the closest communities to Disney World and other theme parks, why take 15-20 minutes travelling to Disney when you can be there within minutes from Emerald Island which means that extra hour of enjoyment.
For this or any of our other Villa's / Apartment packages email us our
Enquire Now
form for an instant quote!
TotalFlorida Site Contains information about Villas in Emerald Island, Villas in Florida Emerald Island Resort Orlando Florida , Villa Rentals in Florida Emerald Island Resort Orlando Florida